© Kirton Bowling Club
Website Manager John Marshall

Welcome to
Kirton Bowling Club
Established in 1924
Willington Road
Kirton
Boston Lincolnshire
PE20 1EP
Green Opens 16th April 1.30pm
(bowls Drive if conditions allow)
New Members Welcome in 2023!
Subscription:
(2022 - reviewed annually)
Adult £26.
Match Fee £2.
During the season we usually have a
Thursday afternoon Social Bowling
See you in 2023!
Please arrive 2pm for prompt start.
All welcome including newcomers who wish to
have a go! Bring bowls if you can - but we have some.
•
How to bowl help - if required.
•
You

must

wear flat shoes on the green.
Please bring your own hand sanitizer.
•
£2 per person.
•
Enjoy a beer / soft or hot drink - next door
at Kirton Leisure afterwards!
Boston Bowls
Supplies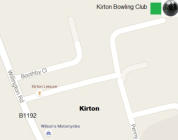 5 Day Forecast Tides sunrise/Sunset Flood Risk

More photos on page Gallery pages


Club Contacts
(for members use)
Club Fundraiser…
120 Club

Results Schedule

2022-2023
120 Club

Results Schedule

2021-2022
120 Club

Results Schedule

2019-2020
120 Club

Results Schedule

2018-2019
2023 Season Fixture
Lists & Calendar will
be available on
Fixtures page!
Directions:
Watch out for the Kirton Leisure sign and drive slowly
past the building on your right. At the end of driveway be aware of
crossing a cycle path before turning left through the pub car park
and down to the Bowling Club & our car park.
Click map for larger
view.
This site uses Google analytics to indicate our website usage statistics
without personally identifying individual visitors. Google services use cookies
which may be deleted in user browser settings.

May 2022
Congratulations to
Sibsey Triples
Winners:
Mark Moore,
Derrick Wright &
John Adcock
Kirton scored 10 points in our final game of the season to finish
top of the table! Thank you to all players this season. JM
BOSTON & DISTRICT BOWLS LEAGUE 2022
Thank you to Mark Moore & Mick
Spinks - who have transformed the
Jubilee Garden area!
31st August - Air
Ambulance lands on
Bowling Green - at least
there was no home
game in progress!
Click above to view shots
Well done to the 17 bowlers who played in the
end of season Bowls Drive
Thanks to Stuart for helping me organise - John Marshall
Roger, Dave C, Peter, Eileen, Mark, David, Eric, Brian, Ray,
Sandra, Kelvin, Ken, Vy, Derrick, Gill, Dave & Mick.